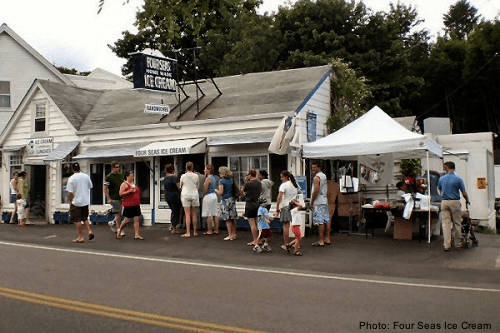 Restaurants are one of our favorite reasons to be on Cape Cod. Fish is impeccably fresh almost everywhere from the simple fry shacks to the five-star restaurants. In many years of vacationing there, we've only had a handful of bad meals, usually when were famished or had no reservations and had to settle for a tourist trap.
My Rule About Clams
Here is my first essential rule for visiting Cape Cod: Don't under any circumstances order clam strips at the myriad fry shacks for which Cape Cod is known. They are for tourists and wusses. It's clam bellies or bust. That first juicy, briny taste of the sea will make you reel and will likely be the beginning of a love affair that will lead you to Seafood Sam's, Kream N Cone and Captain Frosty's (all in one day if you're as hedonistic as us) so you can add your voices to the age-old debate: Who has the best fried clams? (My family's vote is Captain Frosty's on 6A in Dennis, followed closely by Kream and Cone on Route 28 in Yarmouth).
My Rule About Ice Cream...
Read More:
http://www.familiesgotravel.com/2012/07/how-to-eat-well-on-a-cape-cod-family-vacation/